Minnesota had the the 17th fastest growing economy in the United States in the second quarter of 2019 – But the first quarter numbers were worse than we thought
In July I wrote that Minnesota had the the 36th fastest growing economy in the United States in the first quarter of 2019. Today, the Bureau of Economic Analysis released numbers for the second quarter of 2019 and Minnesota did better. This time we matched the national average rate of real terms growth – 2.0% – and ranked 17th.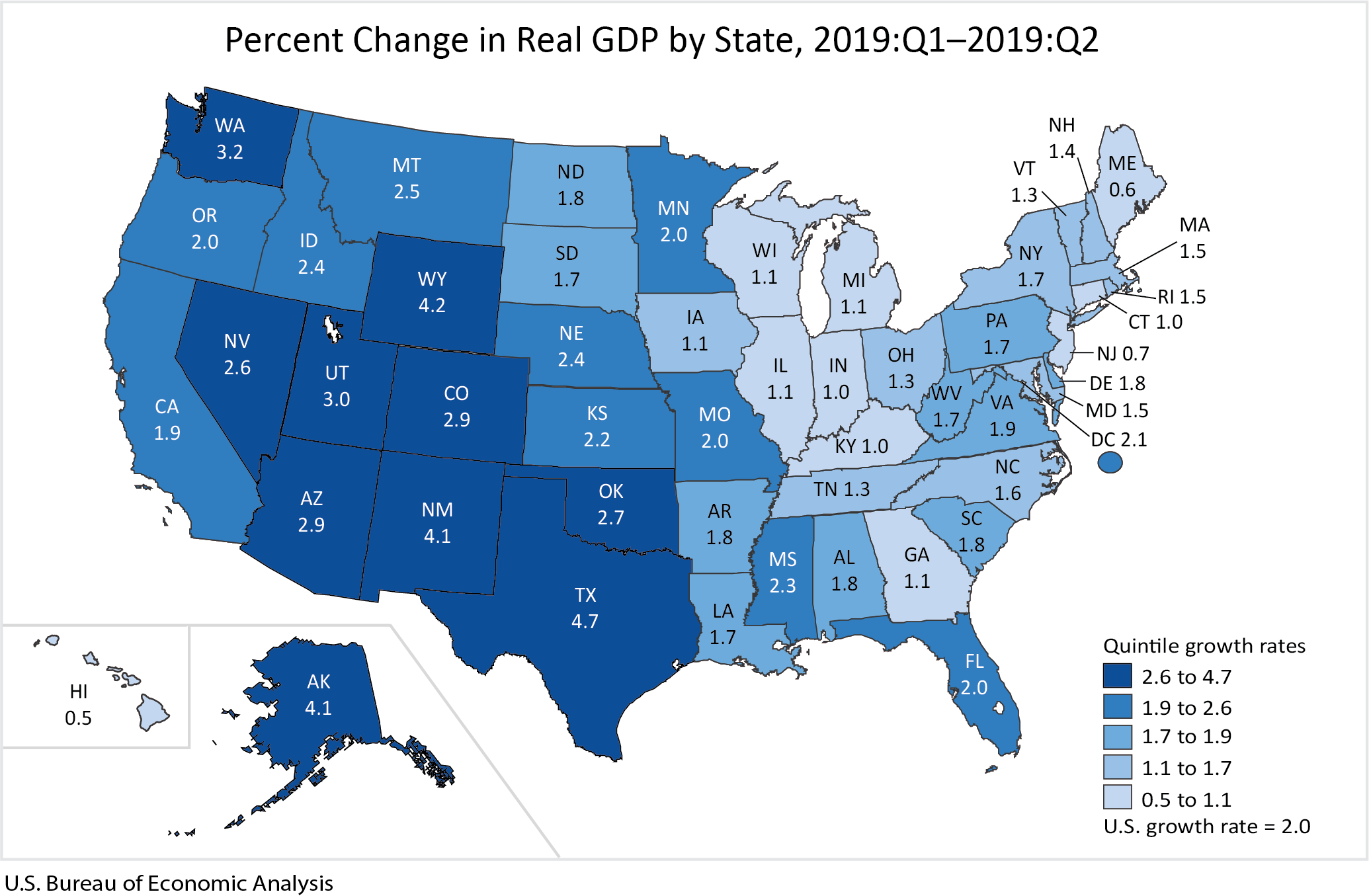 There are some things to note, however.
Figures for Q1 were revised down
When you download these numbers from the BEA, a note at the bottom of the spreadsheet says "Last updated: November 7, 2019– revised statistics for 2014:Q1-2019:Q1; new statistics for 2019:Q2". Writing about the Q1 figures, I said "our economy grew at 2.6% in real terms, below the national rate of 3.1%". But those numbers have been revised. They now show that in the first quarter our economy shrank at a rate of 0.4% in real terms, well below the national rate of 3.1% growth. As a result, for the first quarter, our ranking slumps from 36th to 46th fastest 'growing' economy.
There is a trend here
Quarters can be volatile. Bad weather, for example, can deliver quite a blow to one quarter's figures, something Minnesotans should be ready to take into account. But they do add up. The annual numbers average these quarterly numbers and smooth out some of this volatility.
Sadly, the picture doesn't change too much when we look at annual numbers. Figure 2 shows real GDP growth in the United States and Minnesota since 2010. Over this period, the US economy has grown by 19.5% while Minnesota's economy has grown by 17.2%. Interestingly, our state's growth matched that of the United States generally from 2010, but diverged from 2014.
Figure : Real GDP growth in the US and Minnesota, 2010 to 2018, 2010 = 100
Source: Bureau of Economic Analysis
This isn't 'convergence'
There are those who say that this is the result of 'convergence', that Minnesota's economy is growing relatively slowly because it is already relatively rich. As I've written before, the data does not support this.
If you are interested in finding out more about economic growth in Minnesota, its record, causes, and prospects, take a look at our report, 'The State of Minnesota's Economy: 2018'.
John Phelan is an economist at the Center of the American Experiment.