The State could have protected the Columbus statue – they chose not to
In 1931, 24,000 Minnesotans gathered at the State Capitol to dedicate a statue of Christopher Columbus. The statue was paid for by Italian immigrants – Columbus was the first of them – as a gift to their new home here. On Wednesday, it was torn down.
Is violence now the first resort?
I make no defense here of Columbus or his statue. But in a functioning liberal democracy, shouldn't there be a better way for dealing with these matters than allowing mobs to trash anything they find disagreeable?
In a statement, Lt. Gov. Peggy Flanagan said:
…I have often reflected on the fact that I could see a statue honoring that legacy from my office window. 
But these reflections didn't motivate her to actually do anything. The state authorities have always had the power to remove the statue. Neither did anybody else submit a formal letter asking for removal of the statue from the Capitol grounds prior to Wednesday's vandalism.
State officials turn a blind eye to violence then lie about it
You would imagine that the Minnesota State Capitol is a fairly secure building. If so, it might concern you that a destructive mob should be able to just turn up, commit vandalism, and leave, without anyone making any attempt to stop them.
State authorities claim they would have if only they could have but they couldn't. Minnesota Department of Public Safety Commissioner John Harrington explained that State Patrol troopers "were not able to get out there" in time to guard the statue.
But a timeline of events, put together by KSTP, makes this untenable:
The threat to the Christopher Columbus statue on the south lawn of the Minnesota State Capitol was no secret. It was posted on Facebook at about 11 a.m. Wednesday that protesters would tear the statue down at 5 p.m. It was so well known KSTP Reporter Tom Hauser asked Minnesota Department of Public Safety Commissioner John Harrington about it at 3:35 p.m.

3:35 p.m.

"I've heard that through social media," Harrington responded. "[State Patrol] Col. Langer and his staff will be out there to meet with the groups to explain to them the process that is already in existence for if you want to have a statue or you want to have something removed from the Capitol grounds there is a lawful process for doing that and we will be out there to meet with them to have that conversation. If this is something that the community wants and the legislature agrees with and all the parties that have to part to that decision then there's a lawful process for that to happen but we plan to be out there to meet with them this afternoon."

Technically, Harrington said they would "meet" with the protesters, but it was implied the State Patrol would protect the statue and enforce laws against destruction of public property.

…

4:38 p.m.

Just after 4:30 p.m., protesters began to show up and so did one Minnesota State trooper. Mike Forcia, a Native American leader of the protesters, told the trooper exactly what they planned to do.

"We'll be arrested, but we're going to hook him up and we're going to pull on him," Forcia said of the statue. "I'm disappointed that [Gov.] Tim [Walz] and [Lt. Gov.] Peggy [Flanagan] aren't out here," he said. Forcia told the trooper he had invited them.

5:03 p.m.

Just after 5 p.m., while Hauser was about to go on the air reporting on the plans for a special session of the Minnesota Legislature later this week, the KSTP newsroom witnessed a live feed of the statue being torn down by protesters. After the protesters refused to accept a piece of paper with the steps necessary to legally have a statue removed, the trooper walked away and left the statue unprotected. Two protesters then climbed the statue with no State Patrol in sight and tore the statue down. Just a few minutes later, more than a dozen State Troopers emerged from the State Capitol and circled the pedestal that had held the statue of Christopher Columbus since 1931.
It is clear that the state authorities could have protected the statue if they had chosen to. They chose not to. Afterwards, Commissioner Harrington flatly lied to the press.
This makes me think of the recent riots in the Twin Cities. Gov. Walz told us that the state was overwhelmed and couldn't cope but the riots stopped fairly quickly after the streets were flooded with National Guardsmen on Saturday – four days after the riots began. You have to ask: was the state government so unsuccessful in tackling the rioters because they couldn't do it successfully, or because they wouldn't? What happened to Columbus' statue was a smaller scale of version of what happened to the Third Precinct: the state government abandoned it.
Two Minnesotas
You might remember how, a couple of weeks ago, Kris Schiffler, owner of Shady's Hometown Tavern in Albany, announced plans to reopen his bar in defiance of Gov. Walz' anti-Covid-19 measures. You might also remember how state Attorney General Keith Ellison descended on Mr. Schiffler with lightning speed and the full force of the state government, saying: "My office has the duty to enforce the law and the Governor's order."
Gov. Walz likes to talk about 'One Minnesota' but when it comes to who the law gets applied to, it seems that there are two very distinct Minnesotas. There is the Minnesota of Mr. Schiffler, where the state will steamroll you if you step out of line. Then there is the Minnesota of the protesters, attendees at certain events the politicians want to show up to, and the mob who tore down the Columbus statue. The laws don't apply to them.
The short, slippery slope
In Britain last week, a statue of a slave trader named Edward Colston was pulled down by vandals and dumped in the docks. There were few willing to defend Colston. Aside from a few municipal donations – on his famous 1966 tour, Bob Dylan played in Bristol's Colston Hall – he seems to have had few pluses to enter into his ledger to offset the vast negative of his slave trading. So, while people might have been uneasy with the method of his removal, they weren't too upset that he had gone.
But you can't appease a mob. You can't give them 10% of what they demand and hope they will be satisfied. Instead, they will keep on coming back until they have 100%.
As an example, in just a week, Britain has gone from having Colston's statue pulled down to having to board up a statue of Winston Churchill. This is the man without whom Hitler would have won World War Two in 1940. He is surely the most consequential anti-fascist in history, yet people who call themselves anti-fascist – whose activities amount to smashing up unguarded property – have decided that he can't be tolerated any longer. Those who thought the vandals would go home satisfied after pulling down Colston must feel somewhat silly now. Churchill, who knew a thing or two about the shortcomings of appeasement, could have told them how it would go.
The same dynamic is playing out in Minnesota. First they came for Columbus and not many people spoke out. Now they have Abraham Lincoln in their sights, as the tweet below from State Representative Mary Kunesh-Podein shows: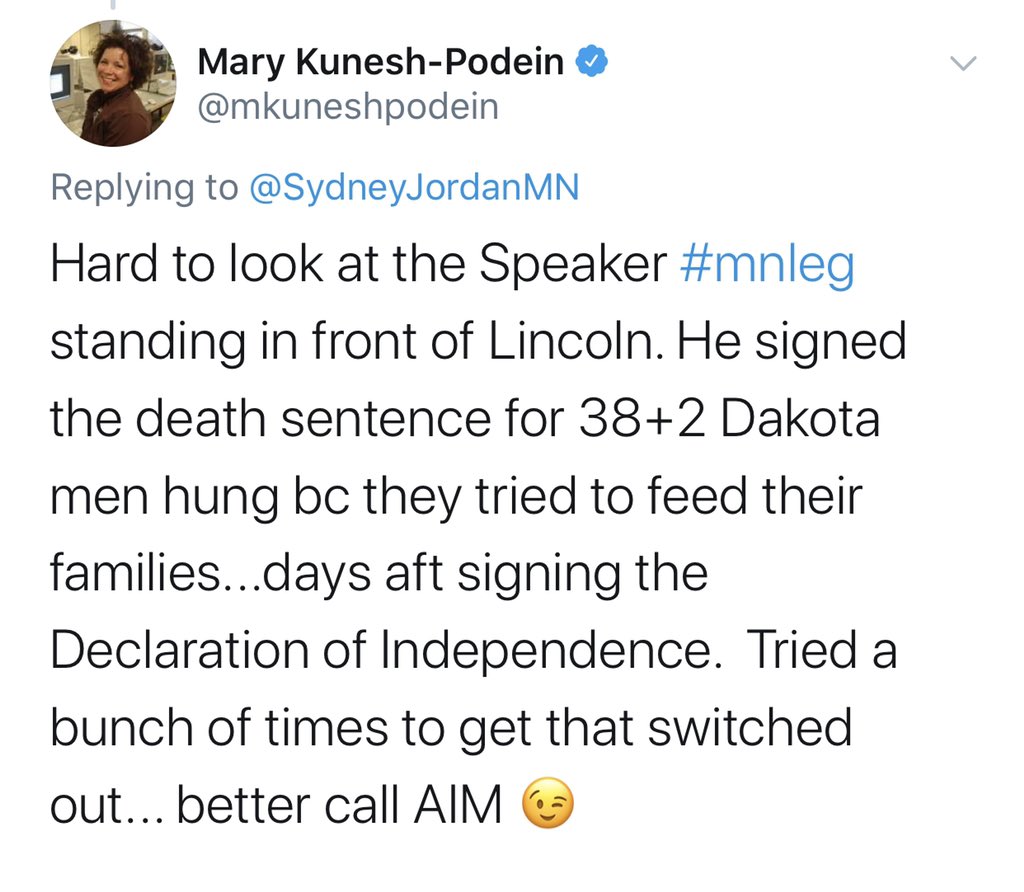 If fighting a civil war that freed the slaves at the cost of 365,000 dead federal troops and his own life isn't enough to save him from the mob (neither is signing the Declaration of Independence 33 years before he was born), what is?
John Phelan is an economist at the Center of the American Experiment.